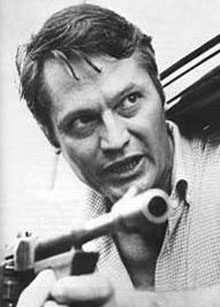 The Midnight Cheese is a new blog dedicated to the campy, corny, cheesy horror flicks of yesteryear; the likes of which were featured on USA up all Night, brought to you by vaunted horror hosts and shown at places like Exhumed Films and First Friday Fright Night. They are the VHS rentals you didn't let your mom know you had and traded copies of with your friends. We're going to remind you why they were awesome and why you should watch them again. A daunting task, I know.
It seems fitting that we launch Midnight Cheese, by wishing a happy 85th birthday to the maestro of the mundane, Roger Corman! We hope you'll join us in celebrating Roger Corman day by viewing one of the man's many campy , quickly made films. You could, for instance, watch "Little Shop of Horrors" (1960), rumored to have been shot in less than three days on bet that he couldn't do it. It features a young Jack Nicholson and is available to watch right now on Netflix instant watch.
Got a taste for the macabre? Corman collaborated with author Richard Matheson("I Am Legend" among MANY others) on adaptions of over half a dozen of Edgar Allen Poe's stories for American International Pictures in the '60s. Of those, three are available to watch right now on Netflix's instant watch: The Tomb of Ligeia, The Mask of the Red Death and Tales of Terror. While all three are excellent, turn your attention to "Tales of Terror" as it stars three horror megastars in Vincent Price, Peter Lorre and Basil Rathbone.
Looking for something a little more recent? Corman is still active and producing, most recently working on the SyFy channel originals "Sharktopus" and "Dinocroc vs Supergator"(You can likely catch these sandwiched in-between episodes of wrestling on the former Sci-Fi channel). He also recently re-teamed with Joe Dante (Piranha, The Howling, Gremlins) to co-direct a web series called "Splatter", which(you guessed it) is also available for your instant consumption via Netflix. It stars Corey Feldmen, so right there it gains a +6 to it's cheese factor. It also features genre favorite Tony Todd(Candyman, Night of the Living Dead remake). You can't loose.
All told Roger Corman has produced over 300 films and directed over 50. Just take a look at his crazy IMDB page
here
. Considered the king of b-movies, he's had a serious impact on the cinema scene for over 5 decades. Happy birthday Mr. Corman!
To the rest of you, raise a pint of karo syrup to Roger Corman and stay tuned for more midnight cheese